At a glance...
All information about your visit with us
We at Eyesight photograph the iris, the iris. Think a black eye is just blue? Or a brown one boring? You will be amazed what structures and colors are hidden in your eyes.
Auf einen Blick...
All information about your visit with us
We at Eyesight photograph the iris, the iris. Think a black eye is just blue? Or a brown one boring? You will be amazed what structures and colors are hidden in your eyes.
Do I need an appointment?
With us you don't need any appointments. Just come by during our opening hours. The entire process takes between 5 - 10 minutes. You can then take your photo home with you as an instant print. If you choose our premium prints, they will be sent directly to you after a few days.
Can I look at the picture first?
Of course! With us you won't get a pig in a poke. We will first show you your eye on the screen without obligation and free of charge. You are welcome to watch during the entire editing process and personalize your photo according to your wishes.
What does a photo cost?
A single image as a printout on photo paper costs between 20 and 30 €, depending on the size - including recording and editing. You can get a double photo for 25-35 €. You can find all prices for premium & special formats in our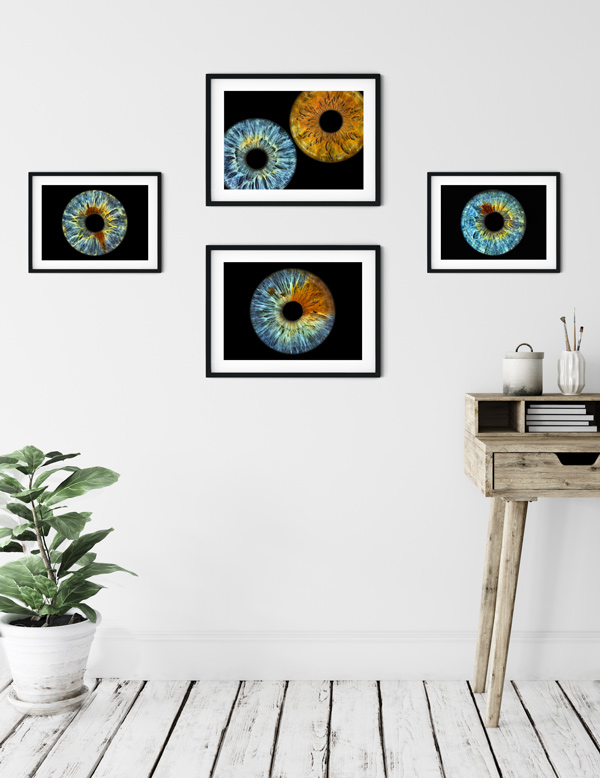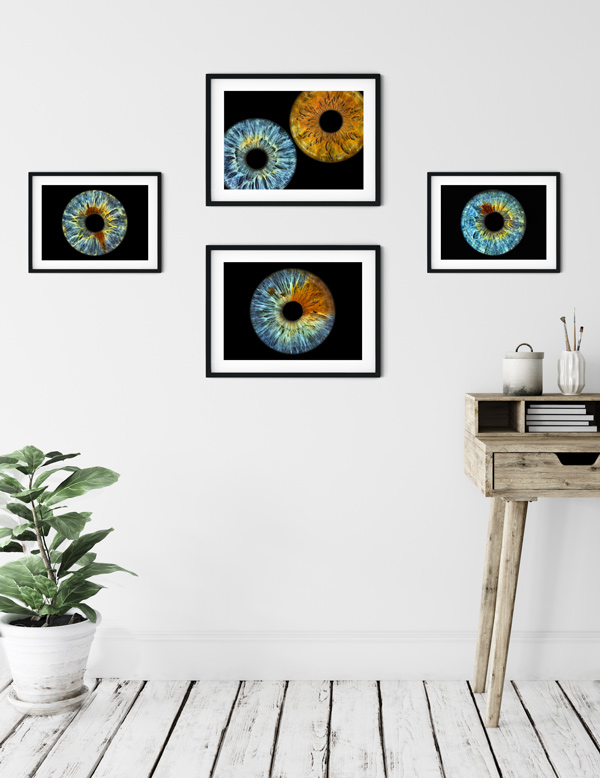 Brauche Ich einen Termin?
Bei uns brauchst du keine Termine. Komme einfach während unserer Öffnungszeiten vorbei. Der gesamte Vorgang dauert zwischen 5 - 10 Minuten. Danach kannst du dein Foto als Sofortdruck direkt mit nach Hause nehmen. Falls du dich für unsere Premiumdrucke entscheidest, werden diese nach ein paar Tagen direkt zu dir geschickt.
Möglich ist die Iris-Fotografie ab 5 Jahren. Auch mit weichen Kontaktlinsen sind Fotos möglich. Harte solltest du allerdings vorher rausnehmen.
Was kostet ein Foto?
Ein Einzelbild als Ausdruck auf Fotopapier kostet je nach Größe zwischen 20 - 30€- inklusive Aufnahme und Bearbeitung. Ein Doppelfoto erhälst du für 25-35€. Alle Preise für Premium & Sonderformate findest du in unserem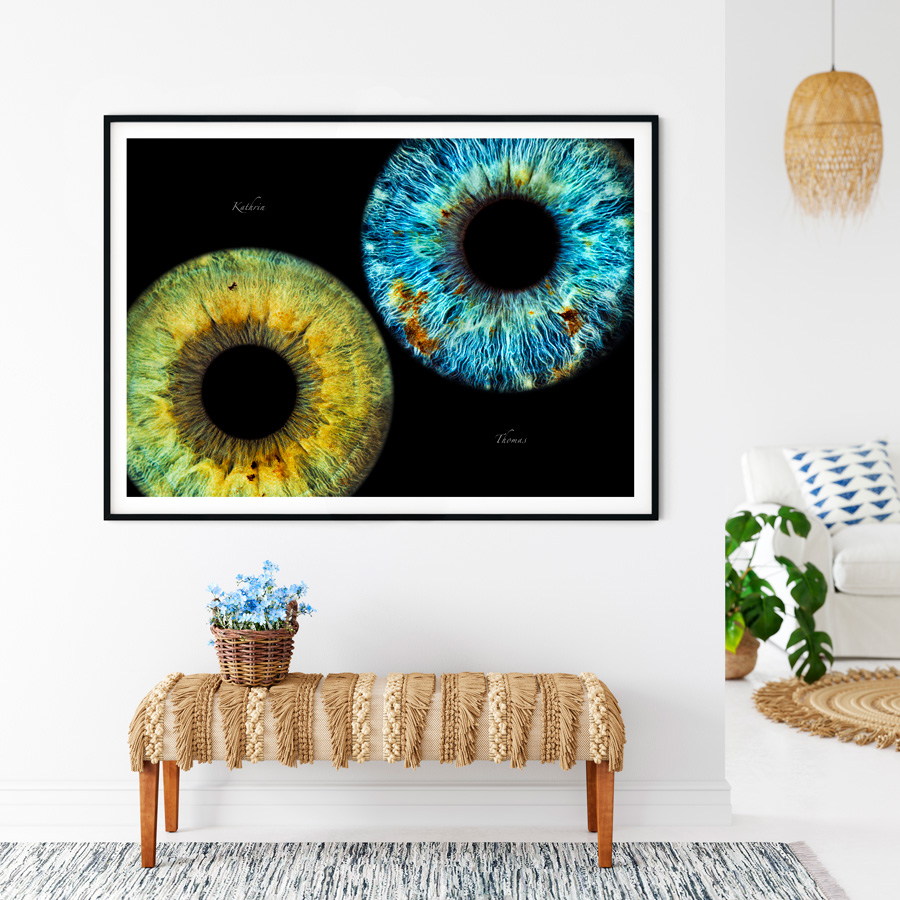 Can irides of several people on one photo?
No problem, our double images are ideal for couples, siblings and best friends.
Können Iriden von mehreren Personen auf ein Foto?
Kein Problem, unsere Doppelbilder sind ideal für Paare, Geschwister und beste Freunde.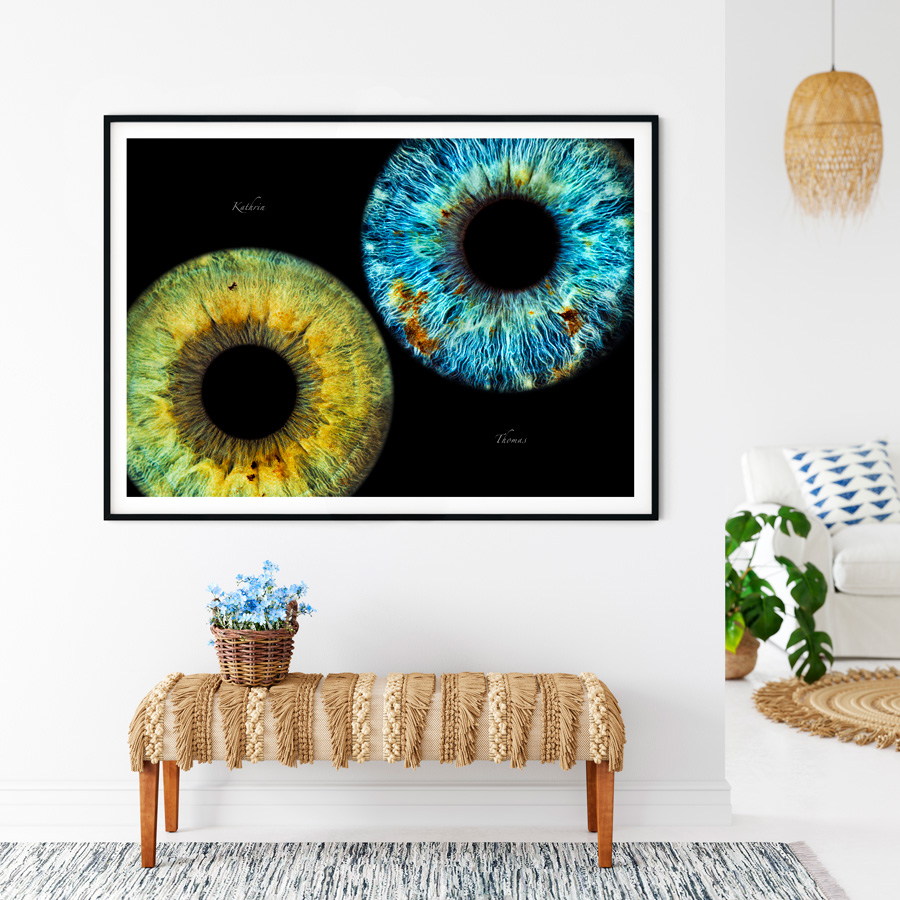 Hier siehst du zum Beispiel ein Doppelbild. Ihr seit mehr als zwei Personen? Dann werft doch einen Blick auf unsere
For example, here you can see a double image.
Have you been more than two people? Then take a look at our
Und so funktionierts...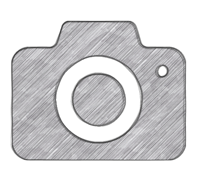 1. Fotografie
Besuche einfach zu einem unserer dauerhaften Standorte oder eine der dutzenden Messen und Events in ganz Deutschland auf denen wir alljährlich unterwegs sind. Eine Anmeldung brauchst du nicht! Komme einfach vorbei.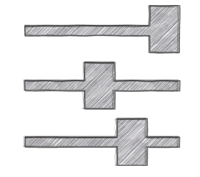 2. Bearbeitung
Zunächst legen wir deine Iris auf einen schwarzen Hintergrund und entfernen störende Reflexionen. In der weiteren Bearbeitung belassen wir deine Iris so Original wie möglich.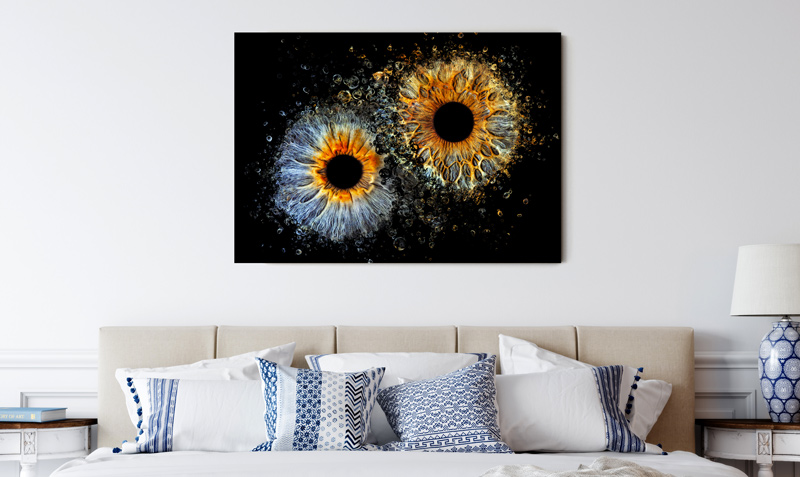 Außerdem hast du die Möglichkeit einen unserer individuellen Effekte für dein Bild zu wählen.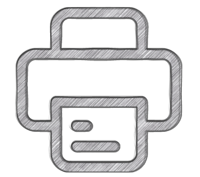 3. Druck
Du entscheidest, ob du dein Irisfoto gleich als hochwertigen Sofortdruck oder Datei mit nach Hause nehmen möchtest, oder wählst unter all unseren Premiummaterialien ein für dich passendes aus. Diese werden dann einige Tage später frei Haus geliefert.
Nachbestellung
Nach deinem Besuch bei uns kannst du jederzeit alle Produkte auf unserer Website nachbestellen.
And this is how it works...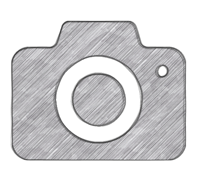 1. Photography
Just come to one of our permanent locations or visit one of the dozen trade fairs and events throughout Germany that we are on the road all year round.
You don't need to register! Just come over.
In principle, iris photography is suitable for everyone.
However, you should be at least 5 years.
Soft contact lenses are not a problem - hard lenses should be removed beforehand.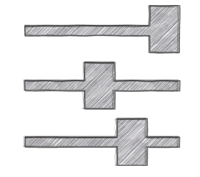 2. Editing
So that the colors really come into their own, we first place your iris on a black background. In the further processing we leave your iris as original as possible.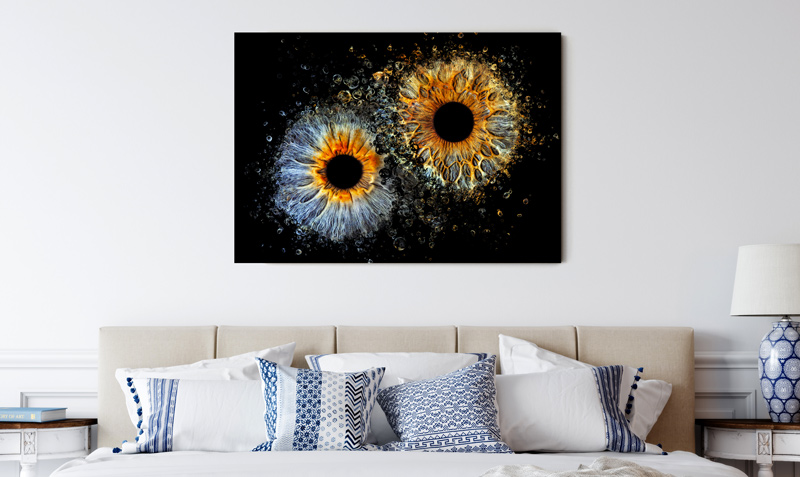 You also have the option of choosing one of our individual effects for your picture. Only your eye colors are used.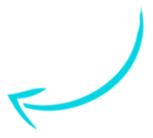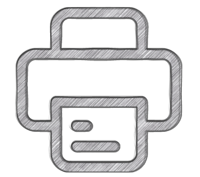 3. Printing
You decide whether you want to take your iris photo with you as a high-quality instant print, or choose one that suits you from all our premium materials.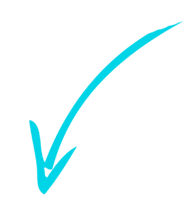 Direct Print / File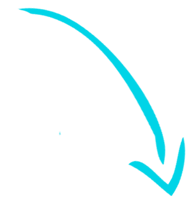 Premium Print
In the formats 15x20cm and 20x30cm you can take single and double pictures with you within 5-10 minutes. The file of your photo is also available.
We optimize all premium products to the selected material and then send you the finished picture to your home. From small formats for the table to a family panorama for the living room, everything is possible.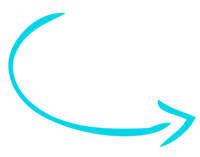 Reoder
After your visit with us you will receive your personal picture number. So you can reorder any product on our website at any time.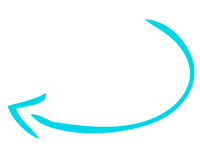 Datenschutz
Im Umgang mit deinen Daten machen wir keine Kompromisse. Wir speichern dein Foto ausschließlich anonym und lokal, um dir die Möglichkeit einer Nachbestellung zu bieten. Wünschst du das nicht, löschen wir es unverzüglich. Auch nach der Bestellung auf unserer Webseite wirst du von uns niemals Werbung oder Newsletter erhalten. Versprochen!

Gemeinsam gegen Corona
Für uns war und ist eine top Hygiene äußerst wichtig - auch vor der Pandemie. Wir desinfizieren unsere Fotobox und Kreditkartenleser vor jedem Kunden - alle Flächen regelmäßig. Abstandsregelungen und Trennwände sorgen für die derzeit nötige Distanz. Unsere Mitarbeiter tragen Masken und sind ausführlich geschult.

Noch Fragen?
Wir sind für dich da. Schreibe uns doch einfach eine E-mail an
info (at) eyesight-foto.de
Data Protection
We do not make any compromises when dealing with your data. We only save your photo anonymously and locally in order to offer you the option of re-ordering. If you do not want that, we will delete it immediately. Even after ordering on our website, you will never receive advertising or newsletters from us. Promised!
Together against Corona
For us, top hygiene was and is extremely important - even before the pandemic. We disinfect our photo box and credit card reader in front of every customer - all surfaces regularly. Distance regulations and partition walls ensure the currently necessary distance. Our employees wear masks and are extensively trained.
Any questions?
We're here for you. Just write us an e-mail
info (at) eyesight-foto.de